Update: In October 2019 the doctor who started the research posted a very useful instruction video on how to do FAB on the Moorfields Eye Hospital Youtube channel: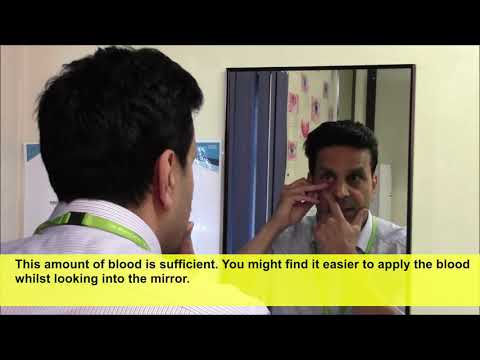 Soothing dry eyes with a drop of blood: Specialists say new technique can help eyes stay nourished 26 August 2017
http://www.dailymail.co.uk/health/ar...rop-blood.html
I've actually started doing this under advice of a cornea specialist in UK here due to how difficult it is to get autologous serum funded. I asked if I needed to be screened for HIV etc. first but they said that's more for others safety than my own, and as I'm the only one handling the blood there's no need. I sterilize finger with an alcohol wipe, prick with a lancet like diabetics use and then place the blood inside lower eyelid 4 times a day. I clean eyelids afterwards with WaterWipes. Recently also started using VitalBaby Aquaint too (similar products are Natrasan, Avenova, Heyedrate, Hypochlor, Briotech etc.). I do also use Ocusoft Plus and Optase Tea Tree once a day but felt it'd get expensive to use those 4 times a day.
It hasn't been a cure for me but has taken the edge off the pain, I'm guessing those with less complications than me would hopefully find it even more effective. I invested in a fancy dancy Genteel lancing device via Amazon but the NHS can provide lancets, alcohol wipes etc. It's in phase 3 of trials in UK here.
I read an old study that said whole blood may have more thymosin beta 4 than serum or plasma, a thymosin beta 4 eye drop is in development, RGN-259, for dry eye pain and inflammation.
If anyone has questions feel free to ask.
Case reports:
https://www.ncbi.nlm.nih.gov/pmc/articles/PMC5108532/
Phase 3 clinical trial ongoing:
https://clinicaltrials.gov/ct2/show/NCT02153515
Research paper powerpoint with further information and instructions:
https://www.researchgate.net/publica...efects?fref=gc
An earlier article from 2016:
http://www.eurotimes.org/dry-eye-pat...ngers/?fref=gc
Thymosin Beta 4 in whole blood versus serum and plasma
https://www.ncbi.nlm.nih.gov/pubmed/3654821